Skincare Treatments
Facials
This is the treatment where you will feel pampered and very relaxed. This treatment can keep your skin glowing and healthy, it is designed to enhance the immediate appearance and texture of the skin. Regular Facials may help to maintain your Skin youthful and radiant!
On the 1st session we will always proceed with your Skin analysis. This will help to:
Recognise your Skin Type and Condition
Recognise if there are any disorder(s) of the skin
Recognise any contra-indications to the treatment
Provide most relevant advise for your skin homecare routine
It is important to know that there are many types of Facials, all of them include the following stages:
Cleansing
Exfoliation
Extraction (if required)
Massage
Mask
Products application
Each Facial treatment will be tailored for your Skin needs. Here you can see the examples of the most frequently requested Facials in Healthy Roots clinic:
- Anti-ageing Facials – the emphasis is made on softening the areas around the eyes and mouth. A sequence of facial massage techniques will be performed to act as a natural facelift, this will help to tone and tighten the skin and underlying muscles. This is a 60 minutes treatment.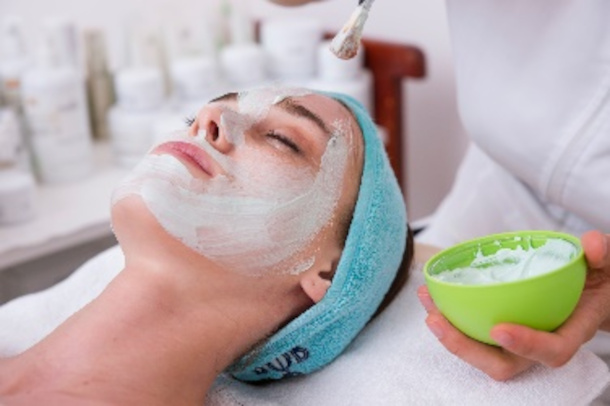 - Hydrating Facials – The aim of this treatment is to increase skin's moisture. Nourishing, collagen-infused masks are often used to improve dehydrated skin. This is a 60 minutes treatment.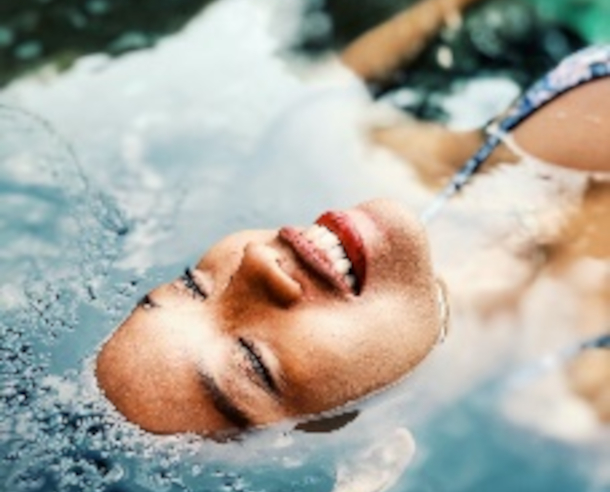 - Acne targeted Facials – This treatment involves deep cleansing and thorough exfoliation. Good hydration of the skin is essential as often you can have acne is some areas of the face and be really dehydrated in others. Products with anti-inflammatory properties are to be used. This is a 60-90 minutes treatment. Pre-assessment is required as some acne conditions can be treated by medical professions only. Please confirm with the practitioner.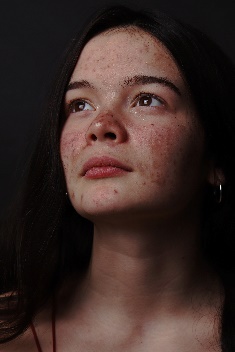 - "Smooth Relaxation Facials" – this is a unique treatment which aims to relax and put the emphases on making your skin looking smother and fresher. This treatment includes 30 minutes of Natural Facial Massage which is a blend of Ayurveda- Indian face massage and Anma – the traditional system of Japanese facial massage, it also incorporates complementary techniques from Acupressure and Facial Reflexology. The whole experience is a 90 minutes treatment.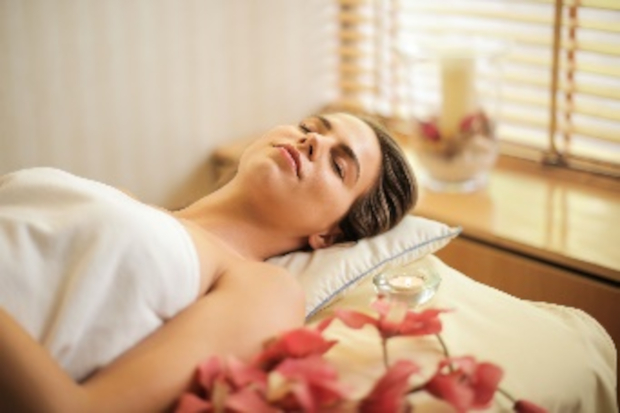 - "Baby-Soft Skin" Hand Treatment – is designed to soften and hydrate the skin of your hands. The treatment involves exfoliation, massage and hydration of your hands. We will use hyaluronic acid and hydrating mask. This treatment deeply hydrates very rough, dry skin, soften cuticles and leaves skin amazingly soft and conditioned. This is a 60 minutes treatment.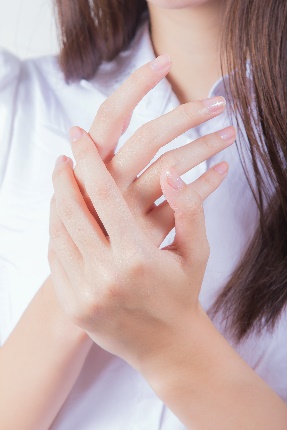 Please feel free to call us if you have any questions.
Qualification: VTCT level2 Certificate
40% Glycolic Skin Peel
A 40% AHA Glycolic Skin Peel is designed to improve the conditions and texture of all skin types ( except the very Sensitive). AHA or Alpha Hydroxy Acid is derived from sugar cane and sugar beets. It deeply exfoliates the skin by penetrating the upper layer of epidermis, weakening the binding that hold skin cells together. This action allows the layer of dead skin cells to dissolve revealing the underlying layer. As a result the skin looks fresher, clearer and brighter.
In Healthy Roots clinic we use Epiderma5 AHA 40 Peeling system. It is made in the UK and highly efficient.
Features and Benefits of Epiderma5 AHA 40:
PH 3.1
Contains 40% Glycolic Acid;
Arnica – healing & soothing;
Green Tea – antioxidant;
Chamomile – soothing;
Allantoin – moisturizing, healing, anti-irritant, soothing;
Exfoliates and removes old and abnormal cells leaving skin with better colour and texture;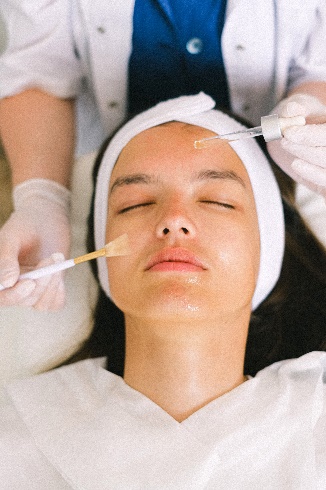 Benefits of Skin Peel Treatment:
Reduces Acne
Reduces Acne scaring
Beneficial in skin Hyperpigmentation caused by sun damage or PIH (Post Inflammatory Hyperpigmentation)
Erases fine lines and wrinkles
Brightens the dull skin
Improves uneven skin texture
Photographic evidences of clients who used AHA 4o EPIDERMA5 Skin Peel system *: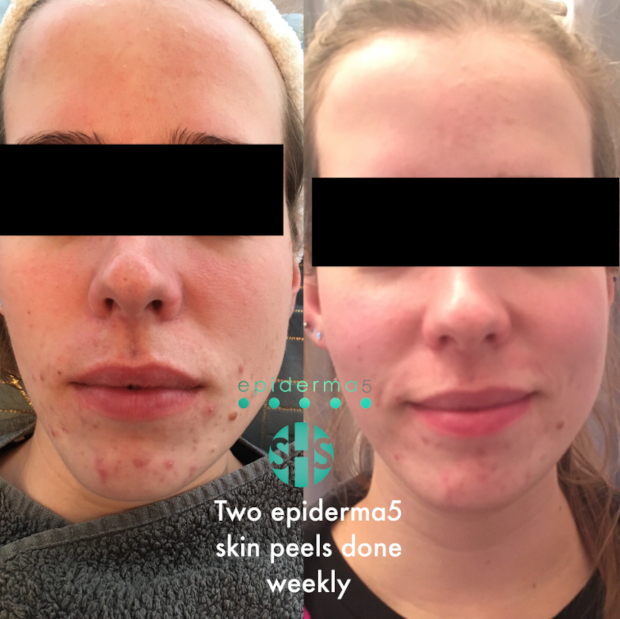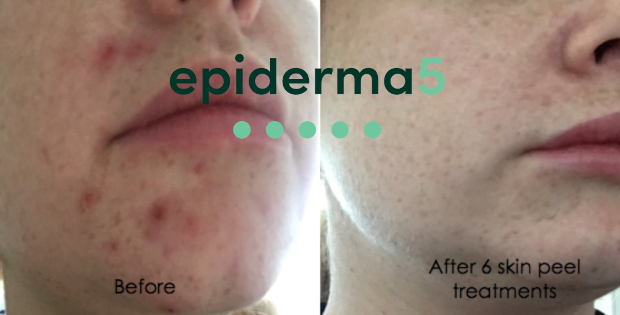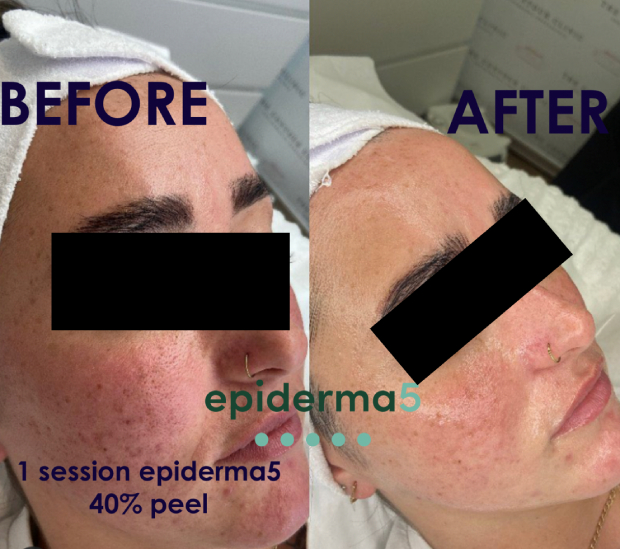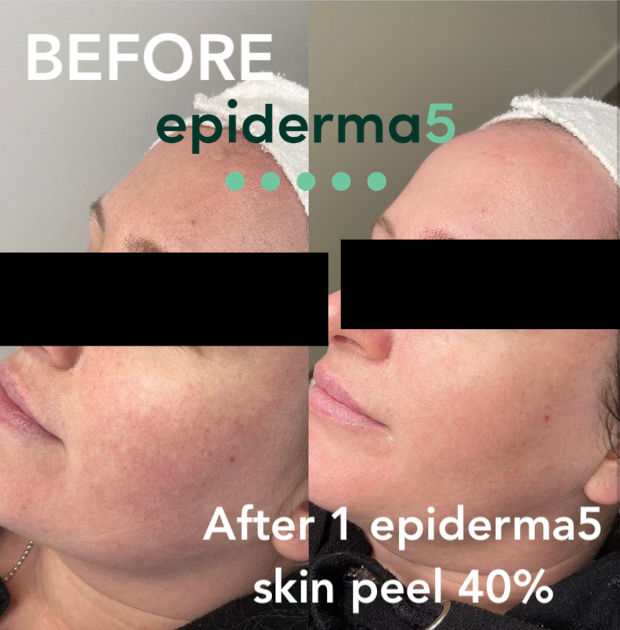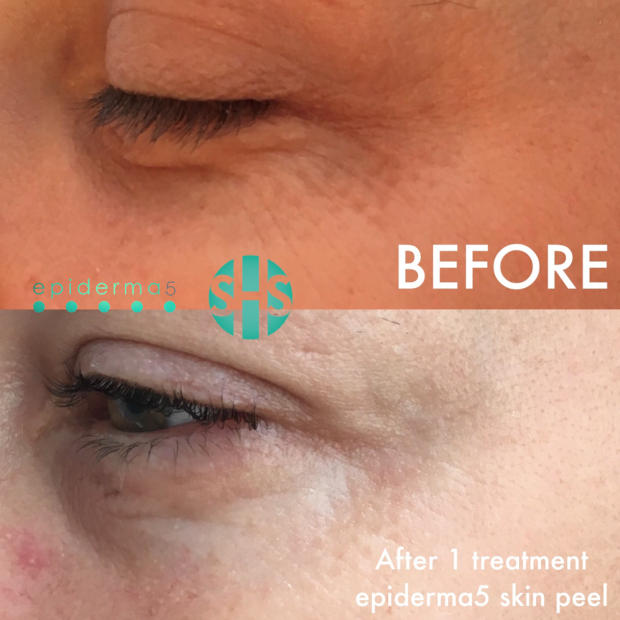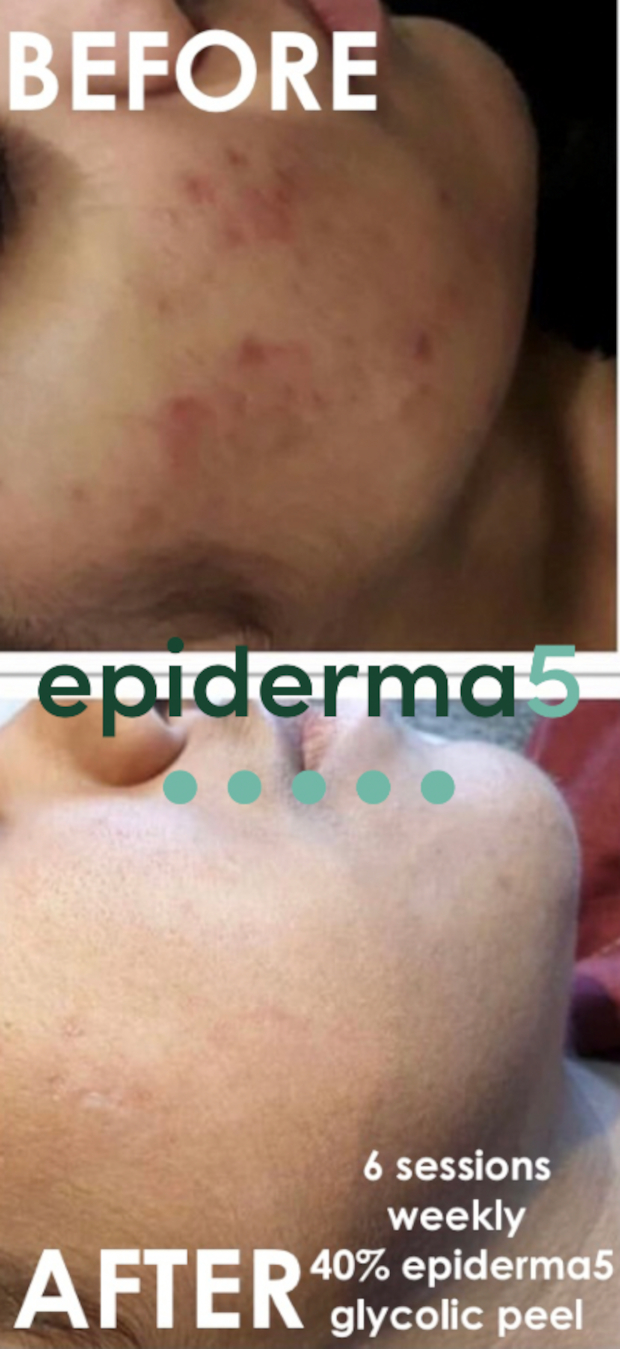 *Please note that results may vary from the photographs shown
Contra Indications to AHA40 Glycolic peel:
Pregnancy and breast feeding;
Hypopigmentation;
Rosacea;
Active cold sores;
Recent use of herb – St John's Wort;
Recent use of Roaccutane (wait to stop the medication for 6-12 months to carry out skin peel. Please use a Professional Medical advice in order to Stop the medication);
Recent use of Retinol/Vitamin A skincare products (wait to suspend this product for 4 weeks before skin peel treatment takes place);
Skin infection and allergies;
Open wounds;
Pre-existing inflammatory dermatoses (eg. Psoriasis, atopic dermatitis, pemphigus);
Facial cancers (especially facial melanoma);
History of abnormal scarring, keloids, atrophic skin;
Recent Laser treatment (wait for 4 weeks after the procedure to carry out skin peel);
Injectable treatments (wait for 2 weeks after the procedure to carry out skin peel);
Pre-Peel Advice:
Have a Patch ( Allergy) test for the AHA40 Glycolic peel in the clinic 24 hours prior the treatment;
Do Not use Glycolic acid products 12-24 hours prior the treatment;
Stop using Retinol/Vitamin A containing products 4 weeks before the treatment, during the course of the peels and then 4 weeks post the last peel;
Post-Peel Advice:
If any redness persists do not go back to using glycolic acid until it is resolved;
Skin may feel drier or tighter – this is quite normal. Apply Epiderma5 Daily Balm (can be purchased in Healthy Roots clinic);
Do not use a sunbed, sunbathe, sauna or steam bath for 7 days after a peel;
Always use recommended sun protection epiderma5 Daily Defence (SPF 40++) cream;
Avoid electrolysis, waxing, face bleaching for 7 days;
Do not swim in chlorinated water for 3-5 days;
No excessive exercise immediately after the treatment;
Avoid sun exposure and sunscreen daily thereafter (even in winter) as skin is more susceptible to sun damage and hyperpigmentation.
Your skin type, skin care before and after the treatment and your lifestyle can all affect the results of the treatment so it is important to follow the aftercare instructions to get the maximum benefit from your treatment.
If you have any concerns or develop any unusual symptoms after your treatment then please do not hesitate to contact us.
How many treatments:
For best results we recommend a course of 4 treatments spaced out in 1 week intervals. After the initial cause taken continue with regular monthly treatments.
You can call us on 07756 557669 and book a free 15 minutes consultation.
Treatment Cost
- 40% AHAs Glycolic Acid Skin Peel - £65.00
- Prepaid course of X4 Skin Peel Treatments (advised) - £220.00 (£40 saving)
Certification