Healthy Roots Acupuncture and Reflexology Treatments in Aylesbury
Healthy Roots Acupuncture clinic was initially set up as a Multibed Community clinic in Cookham in 2014 . Now we are based at:
Healthy Roots Acupuncture, Massage and Reflexology clinic in Aylesbury, Buckinghamshire
Inna Young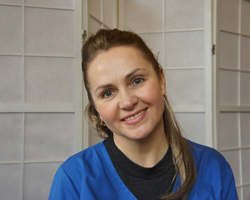 I have studied Acupuncture in one of the most respected UK based Chinese Medicine schools – The College of Integrated Chinese Medicine, and I am a proud member of British Acupuncture council and Cosmetic Acupuncture UK society.
Prior to studying Acupuncture I had became a qualified Reflexologist.
Since September 2018 I have studied Holistic massage skills at one of the prestigious colleges in London - Richdales Institute. This was a very interesting course and intense study which I really enjoyed. On the 1 st July 2019 I became a fully qualified and insured massage therapist with ITEC level 3 diploma. I continue to study massage therapy and working towards ITEC level 3 in SPORTS massage.
The more I learnt the more I became interested in other aspects of Chinese Medicine. Understanding Acupuncture has changed my view of life's values. I cherish every minute with my patients, it is amazing what change Acupuncture can make to the most common and "difficult" conditions. I am now decided to making a difference to my patients wellbeing and quality of life.
Make a difference to your life, pick up the phone and call, I am here to help you! - 07756 557 669

Healthy Roots Acupuncture Clinic Address:
Aylesbury Clinic:
9 Broughton Avenue
Aylesbury
Buckinghamshire
HP20 1NN
Opening Hours
Healthy Roots in Aylesbury, Buckinghamshire
Monday 10am - 8pm
Tuesday 10am - 8pm
Wednesday 10am - 8pm
Thursday 10am - 8pm
Friday 10am - 5pm
Saturday CLOSED
Sunday 8am – 4pm