Healthy Roots Acupuncture and Reflexology Clinic in Aylesbury and Cookham
Healthy Roots Acupuncture clinic was initially set up as a Multibed Community clinic in 2014. Over the years it has been so successful that we now are opened in two locations:
Healthy Roots Low cost Community Acupuncture clinic in Coookham, Berkshire
Healthy Roots private clinic in Aylesbury, Buckinghamshire
Inna Young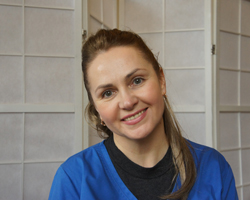 I have studied Acupuncture in one of the most respected UK based Chinese Medicine schools – The College of Integrated Chinese Medicine, and I am a proud member of British Acupuncture council and Cosmetic Acupuncture UK society.
Prior to studying Acupuncture I had became a qualified Reflexologist.
The more I learnt the more I became interested in other aspects of Chinese Medicine. Understanding Acupuncture has changed my view of life's values. I cherish every minute with my patients, it is amazing what change Acupuncture can make to the most common and "difficult" conditions. I am now decided to making a difference to my patients wellbeing and quality of life.
Make a difference to you life, pick up the phone and call, I am here to help you! - 07756 557 669

Healthy Roots Acupuncture Clinic Addresses:
Cookham Clinic:
Elizabeth House
Station Hill
Cookham Rise
Berkshire
SL6 9BS
Aylesbury Clinic:
9 Broughton Avenue
Aylesbury
Buckinghamshire
HP20 1NN
Opening Hours
Healthy Roots in Cookham, Berkshire
Monday 3.30pm – 8.30pm
Healthy Roots in Aylesbury, Buckinghamshire
Saturday 11am – 3pm
Sunday 11am – 3pm
Appointments are also available in the Evenings